We don't have the time, feed, or pen space for birds that are not exciting prospects. So we are excited about every mating we make and look forward with great anticipation to the youngsters produced. However, the fact remains that until a bird establishes a record, all the hope and hype in the world can't make the bird any better than the genes it was born with.
Here is another very important fact; the vast majority of all racing pigeons produced in our loft (and frankly everyone else's loft) are not worthy of being kept for breeding. This results in a very awkward situation. We can't tell you who the best birds are in a group of 100 youngsters until after we have tested them. And once we have gone to all of the expense and trouble of testing them, we really would prefer to keep the top birds rather than part with them.
So we have a dilemma. Here is how we have chosen to handle it:
We prefer to sell tested birds at prices that are tied to their test results. We only sell birds from the top half of each test group. We do not sell the birds that test out in the lower 50%. We keep about 5% of the birds we raise each year for our own breeding program. When we do sell untested birds, they are discounted to a base price that is set each year.
Base Price
For 2022 the base price is $400.
Discounts
For 2022 we will offer volume discounts for orders of:
2-3 birds - 25% (so for example, untested birds they would be $300 each
4-7 birds - 37.5% $250 each
8+ birds - 50% $200 each)
Shipping
We only ship to the continental U.S.
USPS rates keep going up and actual charges depend on the destination zip code.
Buyer pays for shipping at their choice of:
Cost of box(s) plus actual USPS charges, or

Fixed cost based on the number of birds:
| | | |
| --- | --- | --- |
| 1 bird | Small Box | $ 75 |
| 2 birds | Small Box | $ 85 |
| 3 birds | Medium Box | $140 |
| 4 birds | Medium Box | $150 |
| 5 birds | Large Box | $220 |
| 6 birds | Large Box | $230 |
| 7 birds | Large Box | $240 |
| 8 birds | Large Box | $250 |
Untested Birds $400
Untested birds are available at the base price of $400. These birds will be screened and those not handling well for the line will not be offered for sale.
We guarantee that the offspring from at least 90% of our pairs can be reserved or purchased as untested birds. Untested offspring from the remaining pairs will be individually priced.
DNA Tested Birds $600 to $1200
Birds not performance tested and for which DNA testing has revealed the genotypes for LDHA and/or DRD4 genes will be offered at the base price plus $200 for each "A" or "T". These birds will be screened and those not handling well for the line will not be offered for sale.
| | | | |
| --- | --- | --- | --- |
| Number of A's or T's | Example | Price Formula | Price |
| 1 A or T | AB CCCC or BB CTCC | Base + $200 | $ 600 |
| 2 A's and/or T's | AB CTCC or AA CCCC | Base + $400 | $ 800 |
| 3 A's and/or T's | AB TTCC or AA CTCC | Base + $600 | $ 1000 |
| 4 A's and/or T's | AA CCTT or AA CTCT | Base + $800 | $1200 |
Performance Tested Birds $500 and up
Tested birds are sold on the basis of their test results according to the following general guidelines. This is where the smart money shops. Birds in this section have graduated from our very demanding test program. Why do we say "this is where the the smart money shops"? Read our article "Bred for Stock".
Birds that are sold as performance tested are priced strictly according to the graph shown below. If they have been DNA tested we will share this information with the buyer, but it will have no bearing on the price of the tested bird. So for example, if an AA CTCC bird places in testing above the top 50% and below the top 15% it will be $500 and not $1100.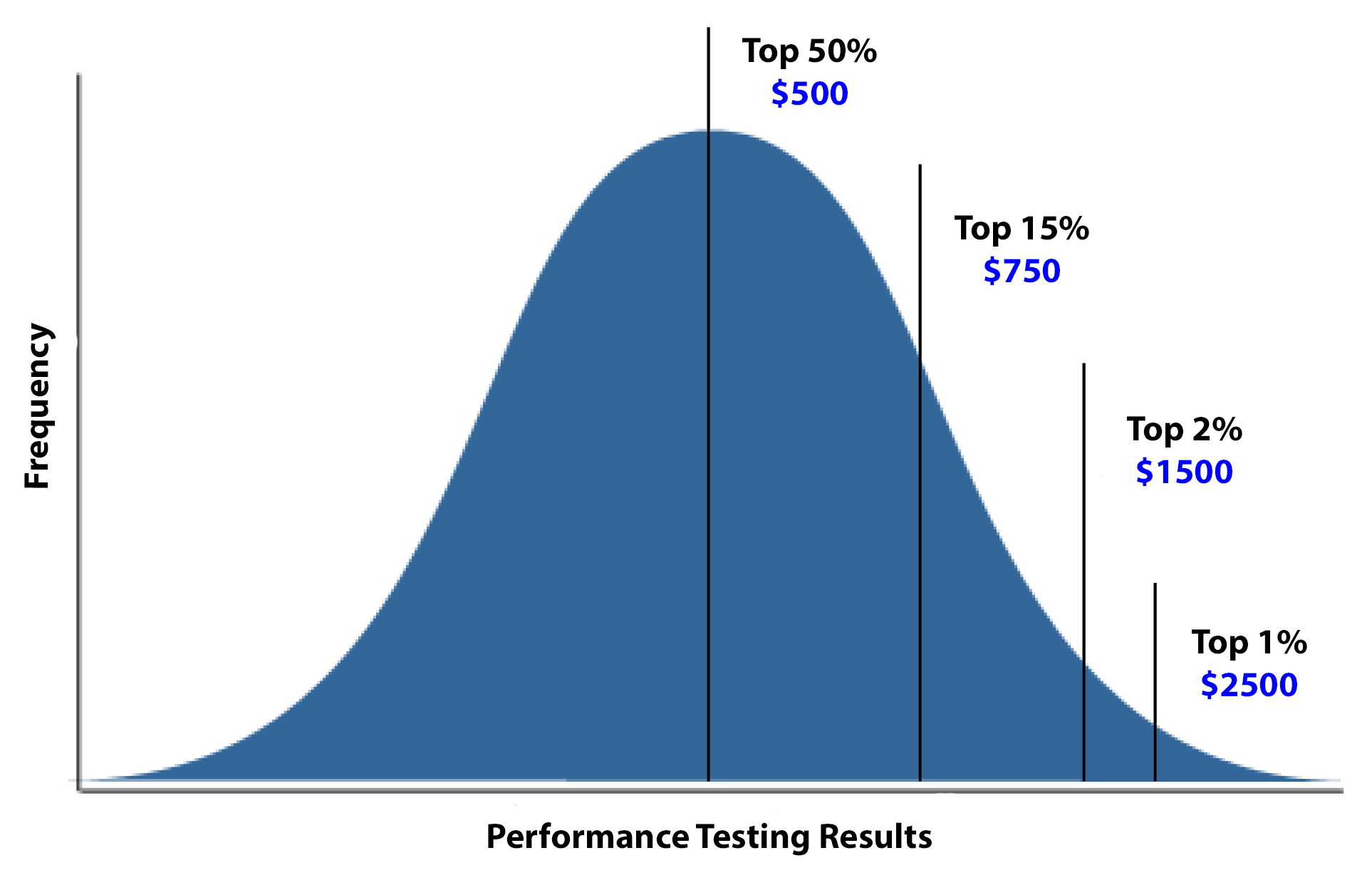 Proven Breeders - Priced Individually
At the end of every breeding season we have to make room for the next generation of breeders. Usually this means replacing about 20% of the breeding birds. Many are culled, but sometimes we have some really good birds who just have to go to make room. When this happens we make them available for sale. The price is individually set depending upon the bird and its age.


We are happy to work with our local youth flyers
Any legitimate youth flyer can purchase young birds for $20 each. We can work out a "sweat equity" program for the youth flyers for whom the $20 price is a barrier. We don't really need their labor, but it has been our experience that outright gifts of birds to youth flyers is less effective in building good new flyers than giving them an attainable opportunity to earn their birds. They must be a member of an organization (4-H, Boy Scouts, AU, IF, etc) and be actively involved in the care and racing of their birds (this isn't a program for Dad or Mom to get new breeders). The birds must be picked up at the farm as we do not ship squeekers.